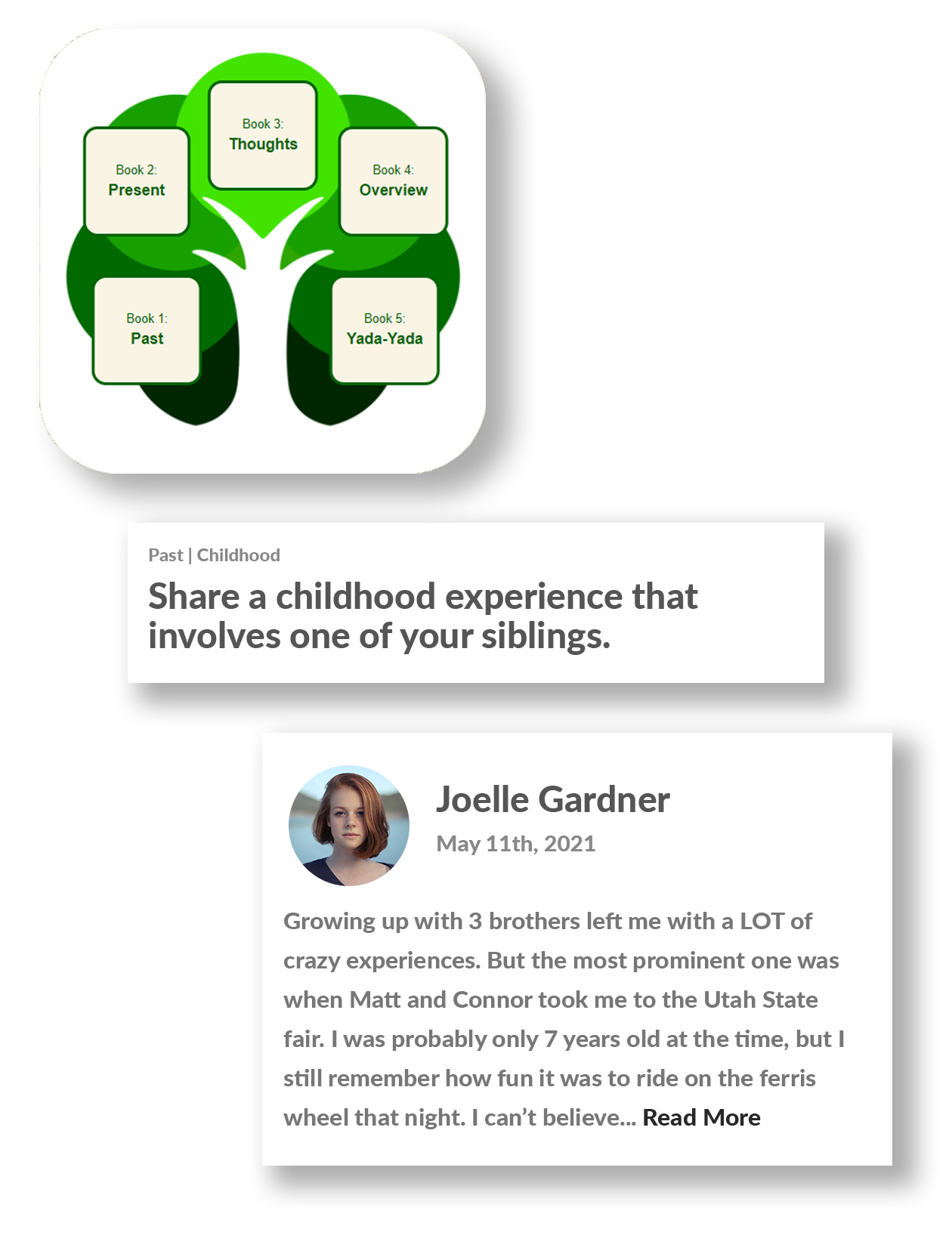 One place for all your stories.
No more misplaced media.
Where are all those great photos and stories you shared in the past? StoryTree eliminates the lost memories associated with other apps, and the tedium, forgetfulness of a standard journal. Share and record memories at leisure, topically, privately, or with your family. StoryTree handles everything.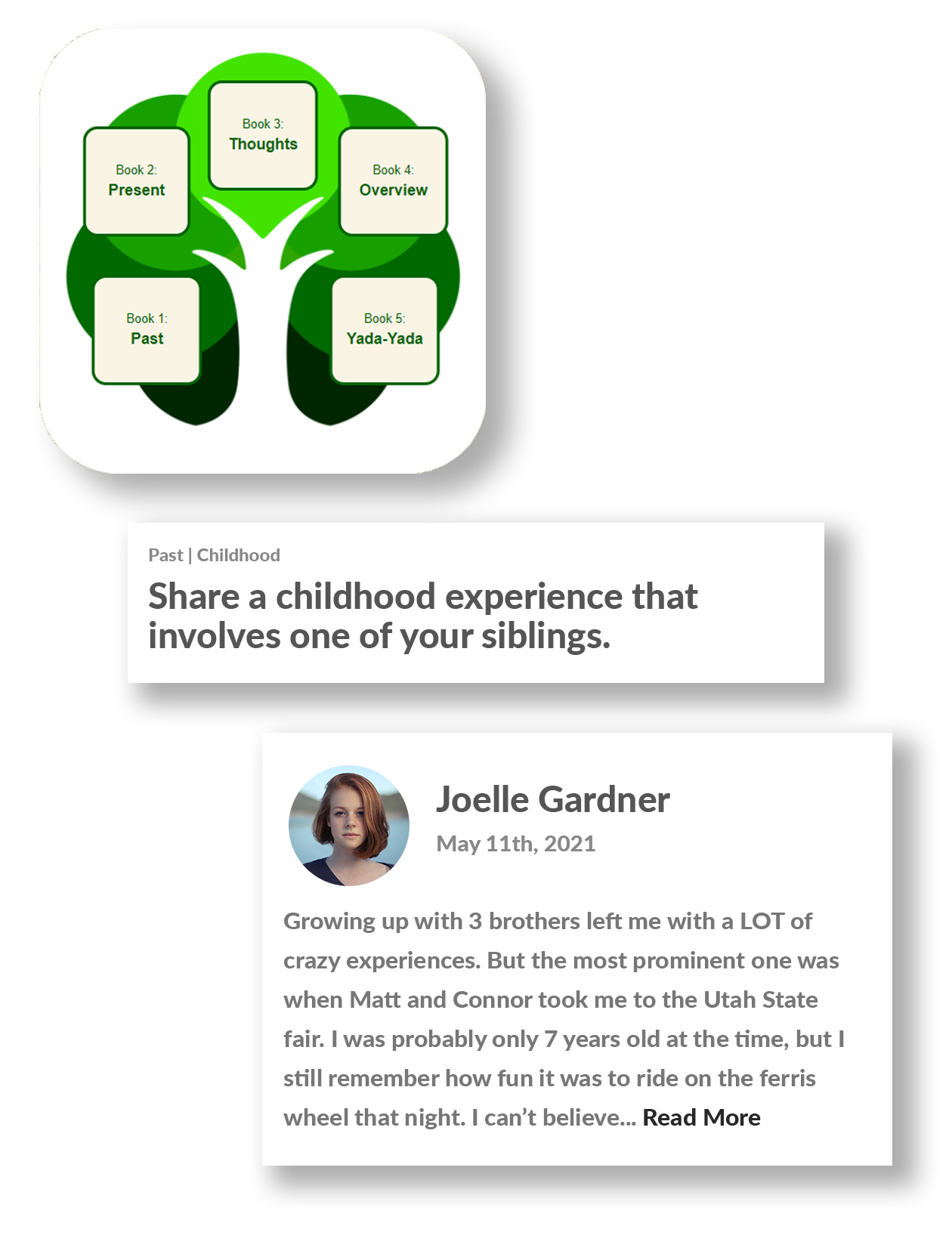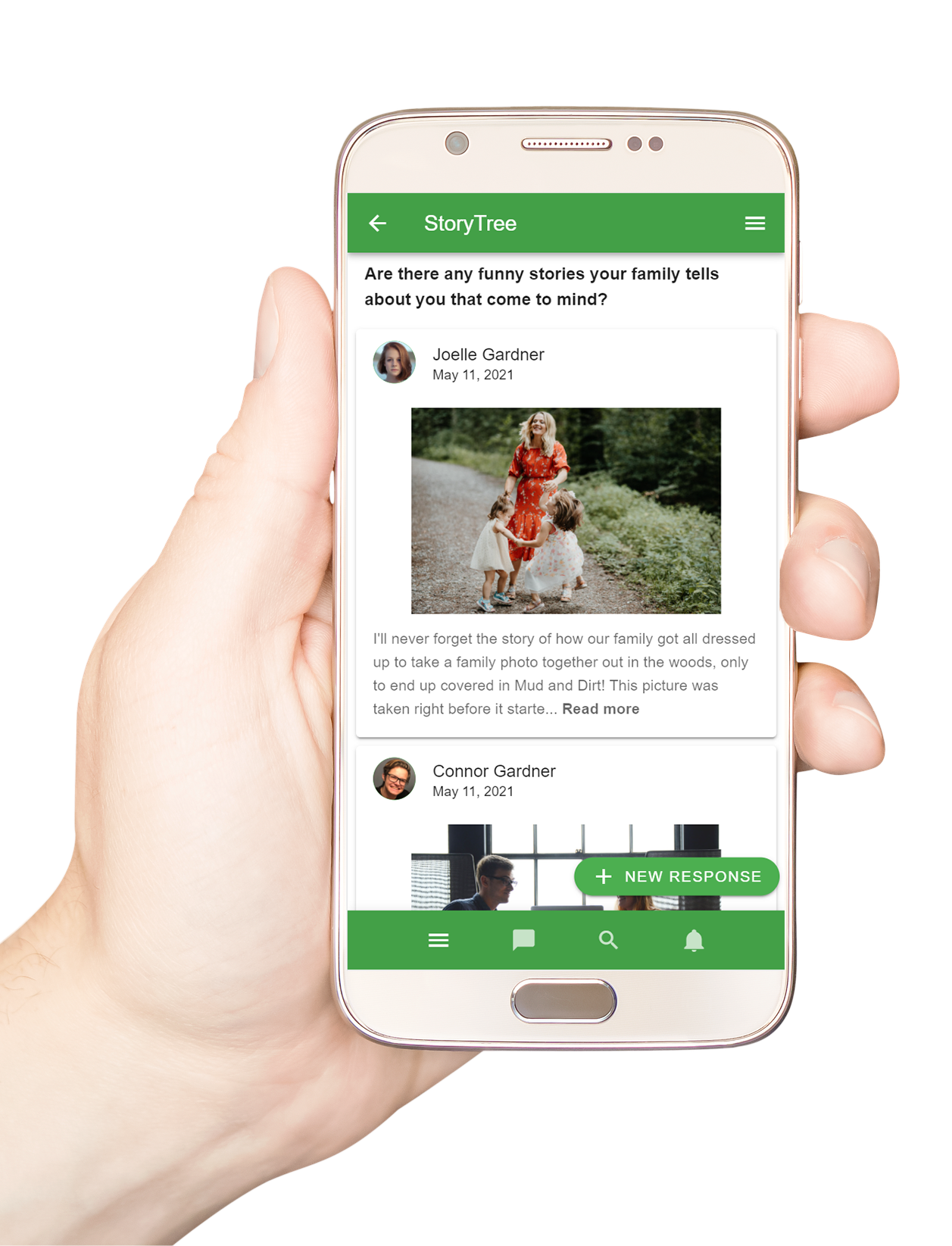 Any device, any place,
Every member of the family.
With our latest improvements in mobile development, StoryTree is more accessible than ever, right in the palm of your hand. Easily use StoryTree anywhere where you can access the internet. Planned a busy day? No worries! Snap a picture of what you're doing at anytime, then write about your experience later.
One product, many features, every function.
It's the Swiss Army Knife of memory sharing!
StoryTree offers four key integrated tools to give you total control of your story. No need to bounce between apps, platforms and online storage subscriptions. Message with your family, store your photos, write in your journal, and share your story with your loved ones, all in the same place.
Easy Chatting
A revolutionary chat app called "StoryChat" with one-click saving of photos and posts to a digital journal. No more "here today gone tomorrow" online shared messages.
Group Journaling
Additionally, your StoryTrees can serve as private or family journals. "StoryLog" entries can be visible to all members of a "Tree", or just yourself.
Automated Memory Interview (A.M.I.)
StoryTree serves as an automated life story assistant -with over 700 intriguing prompts to help you and your family recall memories together -or alone.
StoryBox
The StoryBox offers a central "bank" to 'drag and drop' all your miscellaneous memorable life documents - as well as organize photos, videos, and other important files.
Import Media
Import photos and posts from other social media sources into your StoryTree records.
Get Notified
Get automated memory prompts by email, as well as in the StoryChat. Everyone can see each other's responses and photos -or keep them in a private "Tree"
Custom Books
Create customizable memory books called "StoryBooks" from your StoryTree, digital and/or hardcopy. Use them for family history, annual gifts, etc.
Sync Trees
Make several StoryTrees and optionally "sync" them. Your posts into the family StoryTree can automatically populate your private StoryTree, but not vice versa.
Cloud Storage
Cloud-based file storage enables up to 100GB of video uploads for every user so you can finally store years of photos, birthday videos and family movies.
Ready to record your story?
Start today, for free.
It takes 5 minutes and $0 to start saving your memories forever. Sounds too good to be true? Register now and see for yourself.